Aongatete Coolstores Ltd has been working with Zespri to demonstrate the opportunities for growers, packhouses and marketers which may be available from improved product tracking. The research programme records where bins are filled within orchard blocks and links fruit quality data from the grading system with that location. Last year the concept was proven with a few orchards while this year a big effort has gone in to see how it might work on a wider scale. For example a digital system has been developed to track the 4000 bins used for picking. The bins have radio frequency identification tags (RFID) and can be located in the orchard using smart phones (see image above). These bins can then be tracked as they are transported, stored and packed.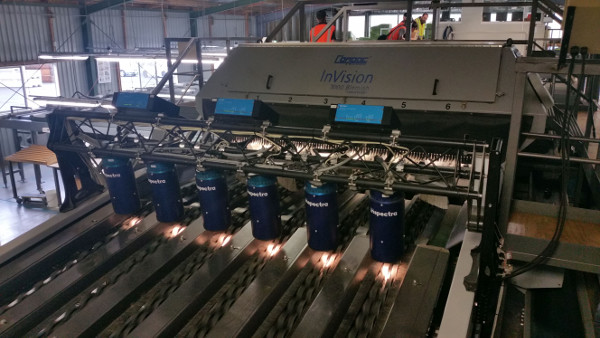 The key aspect of the work is to assess the quality and value of fruit from a particular bin and map that information back to an orchard location. At Aongatete the Compac grader is fitted with equipment to weigh and scan individual fruit. Figure 1 shows "Inspectra" which uses near infra-red to estimate the brix, dry matter for Hayward and G3 fruit and hue angle and pressure for G3 only. Currently this data is used on the grader for packing. The Invision system essentially takes photos of each fruit also for grading. This project will investigate how growers might use these types of data to help understand and manage fruit variability on orchards and improve returns. Zespri is interested in how this approach could improve the consistency of fruit quality delivered to the market.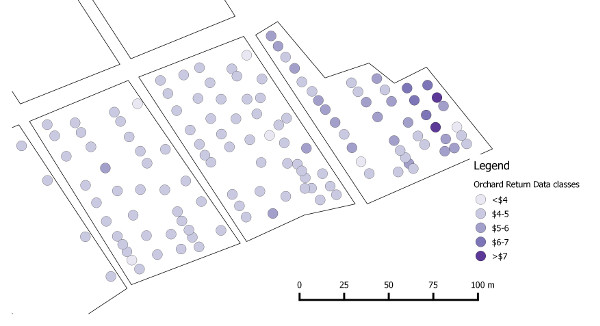 Initial outputs from this work include orchard maps which show fruit quality per bin (see Figure 2). Other data will be brought together in relation to fruit development on orchards including orchard temperature profiles, aerial images from drones, spectral scanning from aircraft and manual assessments of the canopy, fruit number and fruit size. Other information which is emerging includes analysis of how fruit storage performance is impacted by orchard and logistics factors. This year some work will look at linking picked bins to packed trays to further improve the understanding of how fruit in the market might be influenced by orchard and cool chain management. Research partners include Massey University, Groundtruth Ltd, Scopix Ltd, Compac and Plant and Food Research.